Lost Ark: How to get the achievement 50 friends and earn 100 amethyst shards
Today we will show you how to complete the Lost Ark 50 Friends achievement. There is a hidden achievement in Lost Ark that gives players 1000 Lost Ark Amethyst Shards for free. As the name suggests, you only have to have 50 mates on your list. How to get the achievement Lost Ark 50 Friends if there are not many players around you? Chances are you don't have 50 Lost Ark players around you, so we're here to help.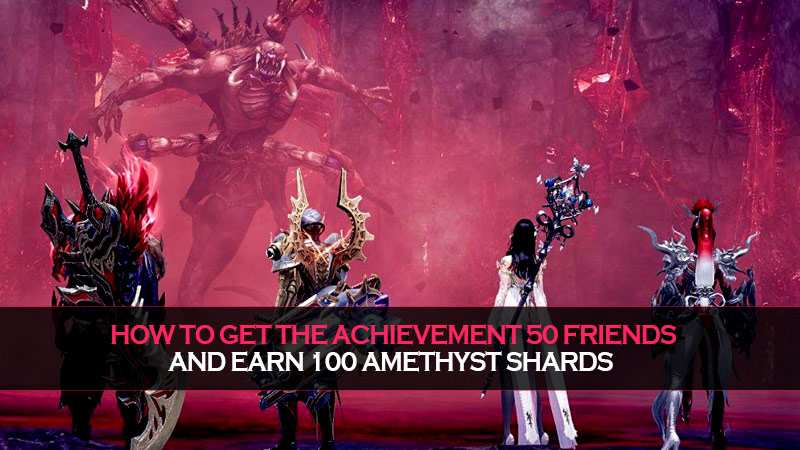 There was a big buzz: just 24 hours after the release, Lost Ark became the second most well-known game in the history of Steam. Check the system requirements here if you want to play this popular MMORPG. Also, if you want to know which classes are the best in the game right now, we've got you covered. You can download the game here. If you don't have a Windows 11 PC, you can play Lost Ark on Mac.
How to get the Lost Ark 50 Friends achievement?
To get the "50 Friends of Lost Ark" achievement, you must first register 50 users in the game and then unlock "People Person", which will give you 1000 free Amethyst Shards.
Social networks, including Reddit, Lost Ark forums, and other platforms, post messages about reaching Lost Ark 50 Friends. Check for megathreads to leave your contact info in the comments and find people who want to be part of your friend's list.
Find the Lost Ark Facebook group and invite players, send them private messages and read comments.
You can also join the Lost Ark guild to find friends.
By following these methods, you will find 50 friends to get 1000 Amethyst Shards for free in Lost Ark. The in-game chat is at the moment full of "add me" messages due to the fact Amethyst Shards are one of the most worthwhile currencies inside the game. We're not sure how long the developers will keep this achievement available because it's hard to see anything other than "add me" messages in the chat.
How to get more Amethyst Shards in Lost Ark?
Besides completing this quest, you have other ways to earn Amethyst Shards in Lost Ark by doing the following:
To learn more about getting Amethyst Shards, go to Achievements > Hidden Area. You can get them by inviting successful groups, creating avatars, and so on.
You can also get 500 Amethyst Shards for free by joining or creating a guild.
Reach level 50 to get free shards.
You can win free shards by participating and winning in the Arena.